Description
Liebherr Chest Freezers
Freezers for the frozen food and ice cream industry. Low energy consumption and maximum efficiency- ensure that you optimally present your products. Furthermore, with highly effective insulation, powerful compressors and optimally aligned refrigeration components they guarantee perfect cooling performance. Attractive, eye-catching product presentation is the best way to boost revenue at the point of sale.
Sales Chest Freezer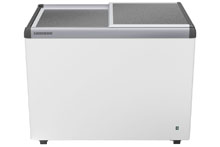 Greater sales success and superb freezing performance
Liebherr sales chest freezers offer the very best conditions for eye-catching product presentation that promotes sales. Sliding glass lids provide a clear view into the freezers, and the products are attractively presented in sturdy baskets – for easy access and quick sales. The chest freezers are also highly robust and wonderfully energy efficient.
Storage Chest Freezer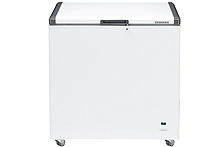 Large storage capacity, optimum refrigeration technology, top energy efficiency, simple controls and superb-quality workmanship: Liebherr storage chest freezers tick all the boxes critical to the professional sector – and are an outstanding option if space is not an issue.
Liebherr Impulse Sales Chest Freezers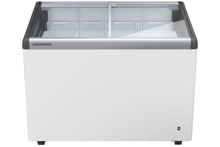 With Liebherr impulse sales chest freezers, not only are your products arranged to great visual effect, they are also displayed clearly and invitingly beneath the sliding glass lids. This high quality presentation increases the chance of a quick purchase decision. Fitted with sturdy castors, these chest freezers can be quickly and easily moved around, as required.
Features:
hot gas frame heater prevents condensation on the glass lids
high performance insulation ensures temperature remain even and reduces energy consumption
toughed, single pane safety glass is shatter proof, resilient and stabilizes the upper area of the chest
Optional energy efficient led interior light
Download Liebherr Brochure 2019