Description
Hiber ABM031S Blast Chiller Shock Freezer
ABM031S
Dimensions: 560 x 700 x 520
Type: Mixed
Voltage: 230/1/50
Power W: 587
Output KG/cycle + 3/-18 degree: 8/5
3 x GN 1/1
Capacity: 1 gelato tubs (360mm x 250mm x 120mm) or 2 gelato tubs (360mm x 165mm x 120mm)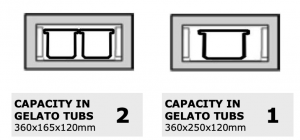 Radial Corners & Drain
Chamber with radial corners, both internal and external, which prevent the accumulation of dirt and bacteria. Water drain on diamond-pattern floor with central drain and bayonet plug.
Opening Baffle Plate
Evaporator completely enclosed in a stainless steel casing with hinged baffle plate. The swing opening allows the inspection and through washing of the evaporator.
Heated Core Probe
All models are fitted with a button to heat up the core probe needle.
This is needed when you have to extract the probe from a frozen product. The timed heating device allows for instant and perfect extraction after every freezing session. Possibility of installing up to 4 needle probes that detect the temperature of the product in 4 different points in the chamber.
Sterilox
Removable sterilization device, handy and easy to move around inside the chiller or on other equipment. Acts on the whole inner part of the chamber and on the aluminium evaporator. Sterilox produces ozone (O3) and can also be used to sterilize other equipment: its cable attachment means that it can be placed anywhere, which maximizes the use of the device.
Tray Rack 
Made entirely from stainless steel, with pairs of non-tipping guides (C-shaped). Double fitting, fully removable and can be washed individually.
For Gelato: Does your gelato or ice-cream come out of the machine soft, dense and offers excellent quality, but does it lose volume and softness after just a few hours in the display unit? Hiber's blast chilling (surface hardening) in just a few minutes causes the formation of micro-crystals, which stabilize all the property of the product for many hours and increase the possible height of decorations. Hiber Blast Chiller Shock Freezer. Hiber allows you to quickly shock freeze your gelato quickly to temperature of -18 ° C. This avoids build up of water crystals and guarantees the desired taste and quality of your gelato. The Hiber ABM031s not only shockfreezes gelato, but can be use for catering pastry bakery, gelato pastry, gelato, ice-cream and other frozen desserts
The Hiber GCM031S Blast Chiller Shock Freezer is an essential choice if you want to guarantee your customers the utmost product safety: the blast chilling actually prevents mold and bacteria from forming. These tend to proliferate in certain conditions or with a sudden change of temperature, humidity, heat or prolonged exposure.
Download Spec Sheet